Commissioner (Former)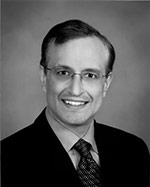 Vice President and Chief Legal Officer, Quality Health Ideas
Vice President for Research and Education, Accountable Care Associates
Washington, DC
POLITICAL AFFILIATION: INDEPENDENT
Todd Gaziano is the Vice President and Chief Legal Officer at Quality Health Ideas and Vice President for Research and Education at Accountable Care Associates. Mr. Gaziano was previously a Senior Fellow in Legal Studies and the Director of the Center for Legal and Judicial Studies at The Heritage Foundation, a non-partisan, research and education institution. At Heritage, Mr. Gaziano specialized in constitutional issues, Supreme Court developments, and judicial and legal reform. In this capacity, Mr. Gaziano worked to promote equal protection for all Americans and the structural limits on government, he hosted public events and conferences on legal reform issues, and he directed the Center's moot court program, which hosts practice arguments for the oral advocates arguing important Supreme Court cases.
Mr. Gaziano has authored articles and op-eds on a variety of legal issues, has testified before Congress and other legislative bodies on several such topics, and has been a frequent legal commentator for print publications as well as network, cable, and radio programs. He has appeared on over 100 television and radio broadcasts, including the network nightly news programs and prime time news and legal affairs programs on C-SPAN, PBS, CNN, Fox News Channel, CNBC, MSNBC, CourtTV, and other stations.
Prior to his current job, Mr. Gaziano worked as an attorney in all three branches of the federal government, serving under distinguished Democratic and Republican leaders. Mr. Gaziano was a career lawyer in the U.S. Department of Justice, Office of Legal Counsel (OLC) in the three administrations (Reagan, 1988 and GHW Bush-Clinton, 1992-95). In addition to assisting the Office in its traditional legal advice and opinion functions, Mr. Gaziano developed the argument adopted by the Supreme Court in Weiss v. United States, 510 U.S. 163 (1993) to uphold the constitutionality of judges detailed to hear cases in the military court system.
From 1995-1997, Mr. Gaziano was Chief Counsel to the House Subcommittee on National Economic Growth, Natural Resources, and Regulatory Affairs. Mr. Gaziano's responsibilities for the Subcommittee included congressional oversight of natural resource, environmental, banking, and related agencies as well as work on government-wide regulatory reform legislation, including the Paperwork Reduction Act of 1995 and the Congressional Review Act of 1996. Early in his career, Mr. Gaziano was a staff assistant to and later authorized biographer for Senator Jennings Randolph (D-WV). Randolph was a House leader in the New Deal Congress and later Chairman of the Senate Environment and Public Works Committee when that committee crafted early, landmark environmental statutes.
Mr. Gaziano graduated from the University of Chicago Law School, where he was a John M. Olin Fellow in Law and Economics. Mr. Gaziano was a judicial law clerk to the Honorable Edith H. Jones, United States Judge for the Fifth Circuit Court of Appeals. For three years, Mr. Gaziano was also a trial lawyer with the law firm of Baker & Botts in Houston.
Mr. Gaziano currently lives in Falls Church, Virginia with his wife and daughter.