Commissioner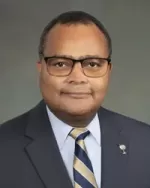 Political Affiliation: Republican
Term Ends: November 2025
On May 7, 2020, President Trump appointed Stephen Gilchrist as a Commissioner of the U.S. Commission on Civil Rights. He was sworn in on May 13, 2020, and will serve until the expiration of his term on November 29, 2025.
Mr. Gilchrist is the Chairman and CEO of the South Carolina African American Chamber of Commerce where he leads a membership of over 15,000 businesses in the Carolinas focusing on the significant needs of both large and small Minority and African-American-owned businesses. He is an authority and leading voice on national public policy initiatives which include; educational reform, alternative energy sources, and financial and economic security for low-wealth communities. In addition to his many community involvement efforts, Mr. Gilchrist is a Minister of Music, Chairman of the Planning and Zoning Commission in South Carolina, and a member of the Mastercard Master Your Card Corporate Advisory Board, which seeks to address concerns of un-banked and under-banked communities in the United States. He is a former member of the Corporate Coalition, which consists of some of America's top Fortune 500 companies, and a member of the Wal-Mart Foundation's national effort to address hunger and food insecurities in the United States. Mr. Gilchrist is also a founding member of the International Partner Alliance (IPA) which seeks to engage international partners in advocacy work around the world.
He's a sought-after national orator whose been featured in Black Enterprise Magazine and Carolina Daily as one of the country's most influential black business leaders and has been a regular contributing guest on CNN, FOX News, and MSNBC among others.
Mr. Gilchrist attended South Carolina State University, and The Kennedy School of Government at Harvard University and is a graduate of the South Carolina Executive Institute.