Commissioner (Former)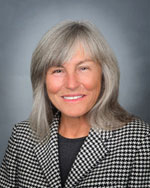 Corporate Advisor in Public Policy and California State University Trustee
San Francisco, CA
POLITICAL AFFILIATION: DEMOCRAT
Roberta Achtenberg has more than 30 years of senior-level leadership experience in business, government, and law and currently serves on private–sector and public–sector Boards and as a corporate advisor in public policy — specializing in banking and finance, housing and economic development, workforce training and post-secondary education.
Achtenberg was appointed in 2011 by President Obama as Commissioner of the U.S. Commission on Civil Rights. She is also a current member and past Chair of the California State University Board of Trustees, the nation's largest four-year university system. She is a Director of the privately-held enterprise software company, Andrew J. Wong, Inc. and of the Bank of San Francisco where she serves as Vice Chair of the Board. She served for five years as a Director of the Federal Home Loan Bank of San Francisco where she chaired the Affordable Housing Committee.
Achtenberg served in the Clinton Administration – first as Assistant Secretary for Fair Housing and Equal Opportunity and later as Senior Advisor to the Secretary of the U.S. Department of Housing and Urban Development (HUD). She also headed the HUD Agency Review Team for the Obama Transition. A former elected member of the San Francisco County Board of Supervisors, Achtenberg represented San Francisco as a Director of the Bay Area Air Quality Management District.
Achtenberg's work as a corporate advisor in public policy includes positions as Workforce and Economic Development Advisor to major corporations and not-for-profits. Achtenberg also served as Senior Vice President for Public Policy at the San Francisco Chamber of Commerce, and founded the San Francisco Center for Economic Development.
Trained as a lawyer, Achtenberg served as a Teaching Fellow at the Stanfo/about/roberta-achtenbergrd Law School, Dean of New College of California School of Law, Staff Attorney of the Lesbian Rights Project of Equal Rights Advocates, Inc., and founded the National Center for Lesbian Rights.
Achtenberg's civic work includes board service with the United Way of the Bay Area where she was also named Management Volunteer of the Year, San Francisco Neighborhood Legal Assistance Foundation, and Coro Center for Civic Leadership, where she also served as Chair. She founded and served for a decade on the Boards of SFWorks, a business-led workforce training program helping families transition from welfare to work, and EARN, an asset-development program for low-income working families to achieve financial independence through financial literacy, saving and investing. She has been recognized five times as one of the San Francisco Bay Area's "Most Influential Businesswoman" by the San Francisco Business Times, was given an Award of Excellence by the National Community Reinvestment Coalition and been named "Woman of the Year" by the California State Senate for the Third Senate District, among other distinctions.