Commissioner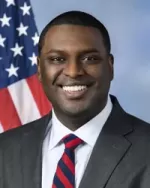 Political Affiliation: Democrat
Term Ends: December 2028
Mondaire Jones is a political contributor and former Congressman for New York's 17th District, encompassing parts of the Hudson Valley.
A product of East Ramapo public schools, Mr. Jones was raised in Section 8 housing and on food stamps in Spring Valley, NY by a single mother who worked multiple jobs to provide for their family. After graduating from Stanford University, Mr. Jones worked in the U.S. Department of Justice Office of Legal Policy, where he vetted candidates for federal judgeships and worked to reform our criminal legal system to make it more fair and equitable. He later graduated from Harvard Law School.
Prior to running for Congress, Mr. Jones was a litigator at Davis Polk & Wardwell LLP, where was awarded by The Legal Aid Society of New York for his pro bono service investigating claims of employment discrimination and helping families defrauded during the Great Recession recover funds. Subsequently, he served as a litigator in the Westchester County Law Department.
As a high-profile member of the House Judiciary Committee, Mr. Jones championed civil rights and civil liberties, as well as defended our democracy. In addition to being an intellectual leader on voting rights, democracy, and Supreme Court reform, Mr. Jones successfully passed legislation that rescued the American economy at the height of the COVID-19 pandemic, made historic investments in infrastructure, capped the price of prescription drugs for Medicare recipients, and took historic climate action. His bill with Rep. Jerry Nadler called the Respect for Marriage Act, which protects the rights of same-sex and interracial couples to get married, is now law. And he secured $37 million for 24 different community projects throughout New York's 17th Congressional District, from improving public housing units in Peekskill to creating the first-ever LGBTQ+ community health center in the Hudson Valley.
In the 117th Congress, Mr. Jones served as the youngest member of House leadership and was named by Axios as the most legislatively active freshman member of Congress. He made history when elected as the nation's first openly gay, Black member of Congress.