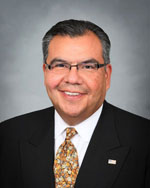 Commission Chair (Former)
President and CEO of Castro Synergies, LLC
Chicago, IL
POLITICAL AFFILIATION: DEMOCRAT
Marty Castro is the President and CEO of Castro Synergies, LLC, which provides strategic consulting services to corporations, entrepreneurs and non-profit organizations that seek to collaborate with and have a positive social impact on diverse communities.
Mr. Castro was appointed by President Barack Obama to the U.S. Commission on Civil Rights in January of 2011. In March 2011, President Obama elevated Mr. Castro to the position of Chairperson of the USCCR, making him the agency's eighth Chair since the formation of the Commission, and the first Latino Chairperson in the over half-century history of the USCCR.
In December 2009, Mr. Castro was appointed by Illinois Governor Pat Quinn to Chair the Illinois Human Rights Commission. The Human Rights Commission is the State public body that arbitrates complaints of civil rights violations in housing, employment, public accommodations and financial credit.
Mr. Castro is on the board of directors of the National Museum of Mexican Art; the only accredited Latino Museum in the United States. He also serves on the board of the Chicago Community Trust. Mr. Castro is also chair and co-founder of New Futuro, LLC. Mr. Castro is a former national board member of the Mexican American Legal Defense and Educational Fund and former chair of the Hispanic National Bar Association's U.S. Supreme Court Committee. Mr. Castro is also the former chair of the Judicial Nominations Commission for the Northern District of Illinois, by appointment of U.S. Senator Richard Durbin.
For his leadership and accomplishments, Mr. Castro has received numerous awards and recognitions, including the National Medical Fellowships' Humanitarian Award; the Hispanic National Bar Association's Cesar Chavez Humanitarian Award; the Edwin A. Rothschild Civil Liberties Award from the American Civil Liberties Union of Illinois; and the Thurgood Marshall Lifetime Achievement Award from the Association of Corporate Counsel, Chicago Chapter. Mr. Castro is the proud product of Head Start and affirmative action in higher education. He received his B.A. in political science in 1985 from DePaul University and his Juris Doctorate degree from the University of Michigan Law School in 1988. Mr. Castro was also awarded an Honorary Doctorate of Humane Letters from Roosevelt University in December 2011 for his work in the area of social justice.