Commissioner (Former)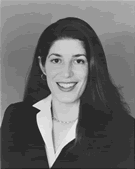 Lawyer and Freelance Writer
Boston, Massachusetts
Political Affiliation: Republican
Jennifer C. Braceras is a lawyer and free-lance writer. In December, 2001, President Bush appointed her to a six-year term on the U.S. Commission for Civil Rights.
Ms. Braceras's articles on politics, culture, and law have appeared in the Boston Globe (where she was a regular contributor during the 2000 presidential election), as well as in the Boston Herald, Legal Times of Washington, National Review Online, The Wall Street Journal, The Washington Times, The Weekly Standard, and The Women's Quarterly. She has appeared as an expert on politics and legal issues on a variety of broadcasts, including CNN Morning News, ABC World News Tonight with Peter Jennings, Fox Special Report with Tony Snow, and New England Cable News (NECN).
Ms. Braceras, who has taught courses in federal anti-discrimination law at Suffolk Law School, is also a former Senior Fellow for Legal Policy with the Independent Women's Forum.
From 2000 until 2002, Ms. Braceras was a research fellow at Harvard Law School, serving first as the Charles Hamilton Houston Fellow and then as a John M. Olin Fellow in Law. During her time at Harvard, Ms. Braceras's research focused on Equal Protection Clause jurisprudence and civil rights challenges to standardized tests. In 2000, Massachusetts Lawyers Weekly recognized Ms. Braceras as one of the state's top ten Lawyers of the Year.
From 1996-2000, Ms. Braceras practiced law at the Boston firm of Ropes & Gray, where she counseled a variety of institutions on employment-related matters. Prior to joining Ropes & Gray, Ms. Braceras served as a law clerk to the Honorable Ralph K. Winter of the United States Court of Appeals for the Second Circuit ('95-'96), and to the Honorable William G. Young of the United States District Court for the District of Massachusetts ('94-'95).
Ms. Braceras is a member of the Committee for Justice, the Hispanic National Bar Association (HNBA) and the Civil Rights Practice Group of the Federalist Society for Law & Public Policy Studies.
She lives in Concord, Massachusetts.