Commissioner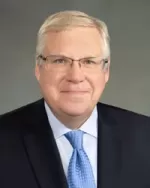 Political Affiliation: Republican
Term Ends: December 2025
J. Christian Adams is the President and General Counsel of the Public Interest Legal Foundation, a public interest law firm. He served from 2005 to 2010 in the Voting Section at the United States Department of Justice. He was appointed by President Donald Trump to be a member of the Presidential Advisory Commission on Election Integrity established in 2017.
He represented multiple presidential campaigns in election litigation. He litigates election and voting rights cases throughout the United States and the Territory of Guam and brought the first private party litigation resulting in the cleanup of corrupted voter rolls under the National Voter Registration Act of 1993. He successfully litigated the landmark case of United States v. Ike Brown in the Southern District of Mississippi, the first case brought under the Voting Rights Act on behalf of a discriminated-against white minority in Noxubee County. He also received Department's Special Commendation for Outstanding Service in 2008 for work on Voting Rights Act cases including against the school board of Georgetown County, South Carolina.
He is the author of the New York Times bestseller about civil rights, Injustice (Regnery, 2011). Prior to his time at the Justice Department, he served as General Counsel to the South Carolina Secretary of State. He also serves as a columnist at PJ Media and is a contributor at The Hill and has written for the Wall Street Journal, USA Today, National Review, Washington Examiner, American Spectator, the Washington Times, and a variety of other publications. He has a law degree from the University of South Carolina School of Law. He is a member of the South Carolina and Virginia Bars as well as an Eagle Scout.