Commission Chair (Former)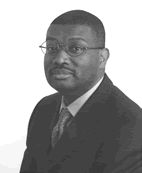 Assistant General Counsel
Kansas City Power & Light Company
Kansas City, MO
Political Affiliation: Republican
President George W. Bush designated Gerald A. Reynolds to serve as Chairman of the U.S. Commission on Civil Rights on December 6, 2004. Mr. Reynolds serves as Assistant General Counsel at Kansas City Power & Light Company, an integrated electric utility. As Assistant General Counsel, Mr. Reynolds provides strategic advice to KCP&L executives and manages the day-to-day operations of the company's law department.
Prior to joining KCP&L, Mr. Reynolds served as a Deputy Associate Attorney General in the U.S. Department of Justice. He provided legal and strategic advice to the Associate Attorney General on matters ranging from terrorism-related litigation to spent fuel litigation. Mr. Reynolds also provided oversight for several litigation components within the Department's Civil Division, including consumer protection and immigration.
In March of 2002, President George W. Bush appointed Mr. Reynolds to serve as Assistant Secretary of Education for the Office for Civil Rights. With 714 employees, including 200 attorneys, and 12 regional offices, Mr. Reynolds managed one of the largest civil rights law enforcement agencies in the federal government. He advised the Secretary of Education on all legal and policy matters relating to civil rights laws. While at OCR, Mr. Reynolds oversaw the revision of civil rights regulations and directed settlement negotiations of all complaints having policy implications.
Mr. Reynolds has served as President for the Center for New Black Leadership and worked as a legal analyst for the Center for Equal Opportunity. Mr. Reynolds has also practiced law with the firm of Schatz & Schatz, Ribicoff & Kotkin.
Mr. Reynolds has written articles on several public policy issues. These articles have appeared in Black Family Today, The Dallas Morning News, The CQ Researcher, Orange Register and The Washington Times. In addition, he has edited a book on the criminal justice system entitled Race and the Criminal Justice System: How Race Affects Jury Trials.
Mr. Reynolds received his law degree from Boston University School of Law, where he served on the editorial board of the American Journal of Law and Medicine. He received his B.A. in History from the City University of New York, at York College.