Commissioner (Former)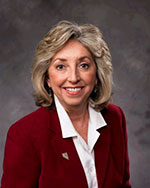 Professor, University of Nevada, Las Vegas
Las Vegas, NV
POLITICAL AFFILIATION: DEMOCRAT
Dina Titus has dedicated her entire professional life to education and public service. She has taught American and Nevada government classes at the University of Nevada, Las Vegas, for over 30 years. She represented the people of Senate District 7 in the Nevada Legislature for 20 years, serving as the Democratic Minority Leader from 1993 to 2008.
Dina was elected to the US House of Representatives from Nevada's Third Congressional District in November 2008. She served on the Transportation and Infrastructure Committee, the Education and Labor Committee, and the Homeland Security Committee. She also served as Whip for the Western states and was a member of numerous issue caucuses during the 111th Congress.
Over the past 32 years, a virtual who's-who in government, public service, and legal circles has studied with Professor Titus, whose classes consistently rank among the most popular offerings on the campus. She believes her time in office has enriched her teaching and that her knowledge of political science enhanced her service.
A noted non-fiction writer, Dina is the author of Bombs in the Backyard: Atomic Testing and American Politics (University of Nevada Press, Revised Edition 2001) and Battle Born: Federal-State Relations in Nevada During the Twentieth Century (Kendall-Hunt, 1989). She has also published numerous scholarly articles on American, Nevada, and atomic politics.
Dina is internationally known for her expertise in the history and policies related to nuclear power, weaponry, and waste — as well as her knowledge of the popular lore of "Atomic Culture." This unique area of study extends to a wide-ranging personal collection of atomic memorabilia. She appeared in the 2006 PBS documentary, The American Experience: Las Vegas — an Unconventional History, by acclaimed director Steven Ives, and is a favorite source on all things nuclear for the media. She was honored to give a guest lecture to the Los Alamos Historical Society and present an academic paper at the International War and Peace Conference at Sokendai University in Tokyo.
Dina has been married to Professor Thomas C. Wright for over 30 years. Wright's studies in his field of expertise - Latin American history - have taken the couple on extended stays in Mexico, Costa Rica, Chile, Argentina, and Spain. Tom received the prestigious UNLV Distinguished Professor award in 2008. John Wright Hall on campus is named for his father, a Civil War historian and pioneer professor at UNLV.