Commissioner (Former)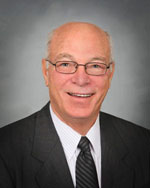 Lawyer
Reno, NV
POLITICAL AFFILIATION: DEMOCRAT
Term Ended: December 2022
Dave Kladney is a Nevada lawyer. He graduated from the University of Nevada, Reno with a degree in journalism. He received his Juris Doctor from California Western School of Law.
He was recommended for appointment to the United States Commission on Civil Rights by Senate Majority Leader Harry Reid on August 3, 2011.
After being appointed as the first in-house counsel for the State of Nevada Employees Association, Mr. Kladney was a sole practitioner for 20 years with a practice centered on civil litigation and representing disabled clients. During this time, he took a three year hiatus from his practice for family reasons and accepted a position as a Deputy Attorney General for the State of Nevada.
Mr. Kladney was a five year member of Board of Directors of the Nevada Trial Lawyers Association. In addition, he was a founding member of the Nevada Festival Ballet and the Nevada Chapter of the Make-A-Wish Foundation. Mr. Kladney has received frequent recognition for his pro bono work and was named Nevada Pro Bono Lawyer of the Year by the Nevada Supreme Court in 2004.