Commissioner (Former)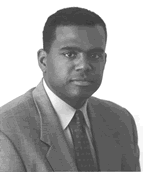 Partner, Troutman Sanders LLP
Richmond, VA
Political Affiliation: Republican
Ashley Taylor was appointed to the U.S. Commission on Civil Rights by President George W. Bush on December 6, 2004. Mr. Taylor is a partner at Troutman Sanders LLP and served as the Deputy Attorney General for Virginia from 1998-2001.
Mr. Taylor focuses his practice in the areas of employment law, commercial litigation and matters involving governmental entities. He has represented public and private clients in a wide range of litigation and administrative matters at both the federal and state levels and before regulatory agencies. He is resident in the Richmond, Virginia office of Troutman Sanders LLP and is a member of the firm's Complex Commercial Litigation Practice Group and a secondary member of the Governmental Law Practice Groups. On October 1, 2004, he was elected as a member of Troutman Sanders' Executive Committee.
He has appeared in federal courts and before the Virginia Supreme Court in cases concerning Medicaid lien disputes, healthcare licensing and/or regulation, and significant Constitutional issues. In addition, he played a primary role in negotiating favorable terms with The Department of Justice in connection with its civil rights investigation of the Commonwealth's mental health and mental retardation facilities. While much of his practice involves litigation, he also represents clients before regulatory agencies and provides advice on issues related to civil rights matters and federally regulated benefits.
Prior to joining Troutman Sanders, he served as a Deputy Attorney General for Virginia responsible for the Health, Education and Social Services Division, which consist of over fifty lawyers. In this role, he provided counsel to twenty state agencies in the areas of Medicaid, Medicare, federal compliance, health and health professionals, social services and education. He also provided counsel to the Secretary of Health and Human Resources and Secretary of Education.
He serves on the Executive Committee of the Virginia Bar Association Young Lawyers Division and serves as a member of the faculty of the Virginia State Bar Course on Professionalism. In 1999, the American Bar Association State and Local Government Section recognized him as the "Up and Comer" of the year at its Annual Meeting in Atlanta, Georgia and was selected in 2000 to serve as a delegate to Australia by the American Council of Young Political Leaders.
He received his J.D. from Washington & Lee School of Law in 1993 and a B.A. in Economics from the Virginia Military Institute in 1990. Following law school, he served as a Law Clerk to a United States District Court Judge.