Commissioner (Former)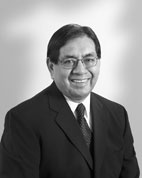 Chairman and Chief Executive, Reno-Sparks Indian Colony
Reno, Nevada
Political Affiliation: Democrat
Senate Minority Leader Harry Reid appointed Arlan D. Melendez to the Commission in September 2005. Mr. Melendez is Chairman of the Reno-Sparks Indian Colony, a Federally recognized Tribal Government representing 840 Paiute, Washoe, and Shoshone tribal members. As such, he oversees a Tribal Government employing approximately 300 people. Mr. Melendez was elected Chairman of the nine-member Tribal Council in 1991. He is the second American Indian to serve on the U.S. Commission of Civil Rights.
Mr. Melendez also is Vice President of the Inter-Tribal Council of Nevada, representing the twenty-seven tribes in the state of Nevada; he is a Board member of the National Indian Business Association. In addition, Mr. Melendez serves as the Western regional vice president of the National Congress of American Indians, and Co-chair of its Taxation Sub-committee. He is a strong advocate for a strong tribal tax base, which has enabled the Reno-Sparks Indian Colony to build a viable tribal economy.
An Armed Forces Veteran, Mr. Melendez served in the United States Marine Corp during the Vietnam era and is a Selective Service local board member. He graduated from Truckee Meadows Community College and attended the University of Nevada.
Mr. Melendez lives on the Reno-Sparks Indian Colony with his wife Joyce; they have four grown children.