---
Civil Rights Issues in West Virginia
---
Chapter 5
Hate Crimes
---
On July 4, 2000, in Grant Town in Marion County, J.R. Warren, a young black gay man, was killed after being beaten nearly to death by three white teenagers, who then ran over him with a car to disguise the crime as a hit-and-run accident. Two teens pleaded guilty to murder, and a third pleaded guilty as an accessory.[1] Although the killing sparked outrage, prosecutors contended that the motive was an argument rather than the victim's race or sexual orientation; federal authorities subsequently opened an investigation to determine whether the murder was a racially motivated hate crime.[2]
Although the Warren murder occurred after the three community forums, the state's response to hate crimes and incidents was a major topic of discussion at the forums. Panelists focused on the work of the West Virginia Hate Crime Task Force, which fosters collaboration among law enforcement agencies, other state officials, civil rights groups, schools, and community groups to respond to hate crimes. Panelists commended the successful initiatives of the task force in several areas, while pointing out the need to continue and greatly expand its work. In addition, panelists called for legislative changes to include people with disabilities as a protected class under the West Virginia hate crimes statute.
Overview of the Hate Crime Task Force
The Hate Crime Task Force was created in 1991 by the West Virginia Human Rights Commission as an ongoing advisory committee to the commission. The initiative came from the Civil Rights Division of the West Virginia Attorney General's Office, and was prompted by the federal Hate Crimes Statistics Act of 1990, which mandated that the U.S. attorney general compile hate crime statistics reported voluntarily by state law enforcement agencies.[3] Paul Sheridan, senior assistant attorney general with the Civil Rights Division and coordinator of the Hate Crime Task Force, outlined the activities of the task force to the Logan forum, and the work of the task force was presented to the Charleston forum by West Virginia Attorney General Darrel V. McGraw.[4]
Active since 1992, the Hate Crime Task Force brings together senior representatives from West Virginia law enforcement agencies, other state agencies, and civil rights organizations. It focuses on diverse coalition-building to combat hate crimes. Despite lacking tangible resources such as its own offices and staff, the task force has significantly enhanced the state's ability to prevent and respond to hate crimes by taking initiatives in the following areas:
Reporting and data collection on hate crimes and hate incidents.
Training for law enforcement agents on how to recognize and respond to hate crimes.
Hate crime prevention programs in secondary schools.
Hate crime education in communities.
Task force coordinator Paul Sheridan stressed that addressing hate crimes remains a large task that requires additional efforts not only by law enforcement officials but also by other sectors.[6]
Reporting and Collecting Data on Hate Crimes
Since 1992, the Hate Crime Task Force has maintained a database of hate crimes and other incidents that may contribute to a climate of hate without necessarily involving a criminal act. To facilitate data collection, the task force has established and publicized a telephone hot line that citizens can use to report hate crimes and incidents. Of the incidents recorded from 1992 through June 2000, 120 were classified as probable hate crimes. Of these, 63 percent involved a racial bias, 23 percent a sexual orientation bias, 9 percent a religion bias, 3 percent an ethnic origin bias, and 2 percent a disability bias.[7] The following examples cited in the task force database are illustrative of reported incidents:
June 2000—An African American man had a swastika carved into the paint of his car and other damage done to his vehicle while visiting his white girlfriend in Kanawha County.
March 2000—A man wearing a "gay pride" T-shirt was assaulted and struck in the face by a group of 8–10 youths outside his home in Charleston. The group also threw a brick through his front window; the next day, after he had reported the incident to police, his house was vandalized again.
August 1999—Four African American women were attacked in Cabell County by two white men. All four women were physically assaulted and struck with fists by the men, who also hurled racial epithets.
The database maintained by the task force provides a useful resource to gauge potential hate crime incidents and racial tension. The task force does not independently investigate incidents it receives, although state or local police may investigate some. Since the database consists of telephone calls from citizens and newspaper accounts of incidents, it supplements the hate crime data collated by the West Virginia State Police under the state's Uniform Crime Reporting Program (UCR).[9]
---
FIGURE 5. Suspected Bias Crimes and Incidents Reported to the West Virginia Hate Crime Task Force, 1992–June 2000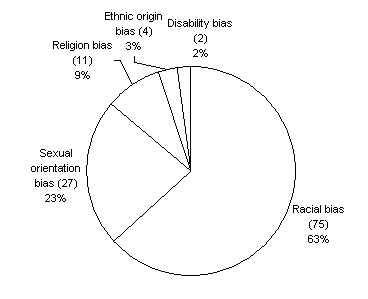 Source: West Virginia Hate Crime Task Force, Annual Report, June 2000.
---
Since 1996, West Virginia has included hate crimes in its UCR reports.[10] Until 1998, there was a serious problem of underreporting. For example, in 1996, only 7 percent of West Virginia's 317 police departments were keeping hate crime data.[11] At the Logan forum, Mr. Sheridan testified, "We have a very, very incomplete picture of how serious the problem is. I wish I could tell you . . . whether it's getting better or worse. . . . It's clear that there is a serious problem. We know that. But beyond that we can't really say."[12] However, according to recent statistics, the percentage of law enforcement agencies submitting information to the UCR has steadily improved. In 1998 (at the time of the Logan forum), 37 percent of police departments provided data and the UCR reported a total of 21 hate crimes.[13] In 1999, approximately 70 percent of law enforcement agencies in West Virginia reported crime information to the State Police. This figure has steadily risen to approximately 85 percent in 2000, 92 percent in 2001, and 95 percent in 2002.[14]

Speaking at the Morgantown forum, Jim Jeffers, director of the West Virginia Division of Rehabilitation Services, noted that West Virginia does not include people with disabilities as a protected class under the state hate crimes statute, nor does the federal statute.[15] He observed that many people do not want to believe that such incidents occur, and that reports are even more incomplete than with hate crimes against other groups.[16] Many states do include people with disabilities as a protected class, although the federal law does not.[17] He recommended that West Virginia and federal laws on hate crimes be amended to cover crimes motivated by bias against the victim's physical or mental disability.[18]

Training for Law Enforcement on Hate Crimes

Since 1997, the Hate Crime Task Force has been working with law enforcement agencies to provide in-service training for police officers on "Responding to Hate Crimes." It has received national recognition for its team model of hate crime training, in which each training team includes a law enforcement officer, a prosecutor, and someone with a community, civil rights, or victims' rights perspective. About 300 to 400 police officers a year attend the eight-hour training program. The training is also available to cadets at the West Virginia State Police Academy, and a 22-minute video developed by the task force (Targets of Hate) has been available since 1998.[19]

Hate Crime Prevention Programs in Schools

Paul Sheridan told the Logan forum, "We know from what data we have that the majority of hate crimes are committed by young people" acting out the prejudices of their parents.[20] Furthermore, a significant proportion of reported hate crimes and incidents takes place in or around schools.[21] Hate crime prevention programs in secondary schools not only reach a target population of teenagers at risk for being involved in hate incidents but also help to keep schools free of bias-motivated harassment that can interfere with learning.

In 1997 and 1998, the task force assisted the West Virginia State Board of Education in formulating, enacting, and implementing regulations addressed at bias-motivated harassment and violence in schools (Policy 2421), and the task force has also provided training to educators on how to implement the policy.

In 1999, the Civil Rights Division of the West Virginia Attorney General's Office launched a pilot program in 12 secondary schools across the state, the West Virginia Civil Rights Team Project.[22] Based on a successful model from the state of Maine, the project makes use of teams of students in each school who work through student-initiated projects to make their school a more tolerant place. In addition to changing the general climate in schools, the pilot project aims to create mechanisms by which minority students or their friends can alert school officials to harassment before it escalates to the level of serious violence. Panelists expressed hope that this promising program would be continued and expanded to other schools in the state.

Training for Communities on Hate Crimes

The Hate Crime Task Force has also provided training for trainers and education resources to build community ability to recognize and prevent hate crimes. The task force efforts include showing educational materials from the Not in Our Town project.

The project includes a documentary based on the successful efforts of Billings, Montana, w

herein residents responded to hate and discrimination in their community.