---
Voting Irregularities in Florida During the 2000 Presidential Election
---
Chapter 8
The Machinery of Elections
---
As long as ours is a representative form of government . . . the right to elect legislators in a free and unimpaired fashion is a bedrock of our political system.[1]
Florida lacks uniform voting systems for its 8.4 million voters.[2] Each county is authorized to select its voting method from the list of systems certified by the secretary of state and the state Division of Elections.[3] The federal role is extremely limited. While Federal Election Commission (FEC) standards govern all voting systems other than paper ballots and lever machines, state adherence to the standards is completely voluntary. Douglas Jones, associate professor of computer science at the University of Iowa and chair of the Iowa Board of Examiners of Voting Machines and Electronic Voting Systems, said the FEC's standards are far from perfect, they are significantly out of date . . . and the number of states that don't even write any reference to the standards into their state law governing voting machines is embarrassing. [4]
THE MACHINES
There are five voting systems used in Florida's 67 counties: punch cards (24 counties), optical scan central tabulation (16 counties), optical scan precinct tabulation (25 counties), paper ballot (one county), and machine lever (one county).[5]
Punch Cards
Punch cards were developed for data processing in the 1890s, and they started being used as ballots in 1964. After the polls close, the ballots are counted at a central counting center using an industry-standard punch card reader attached to a computer system. Because the punch card is a physical ballot, any questions about the correctness or accuracy of the vote-counting software can be resolved or attempted to be resolved by a hand recount of the ballots.[6]
Optical Scan Central Tabulation
In this system, a ballot card has candidates names preprinted next to an empty oval, circle, rectangle, or an incomplete arrow. A voter records his or her choices by filling in the empty oval, circle, or rectangle or by completing the incomplete arrow with a pencil. After the polls close, the ballots are sent to a central location for counting by a high-speed reader.[7] Like the punch card, because physical ballots are used, questions about how the vote is tabulated can be resolved by reviewing the ballots.
Optical Scan Precinct Tabulation
This is the same system as the optical scan central tabulation system described above, except that once the voter is finished completing the ballot, it is fed into a tabulating device at the precinct. Because the machine can be programmed to kick out ballots that have been voted incorrectly, a voter has the opportunity to immediately correct any errors before he or she leaves the precinct.[8]
Paper Ballot
The voter takes one of the paper ballots and makes a mark next the candidate(s) of his or her choice the only requirement is that any ballot containing a clear indication of the voter's intent be counted.[9] If properly used, the paper ballot system sets a standard for fair and honest elections that is not easy to match with more recent voting technologies. Paper ballots may be transported to a counting center, or they may be counted at the precinct immediately after the polls close.[10] An honest count is ensured by having each ballot inspected by two election workers, representing opposing parties, with observers from opposing parties allowed to watch over their shoulders. If there is any doubt about the count, it may be resolved by a recount.[11]
Machine Lever
Lever machines completely eliminate the problems of ballot interpretation that accompany paper ballots. In addition, lever machines contain interlocks preventing voters from selecting too many candidates an overvote which invalidates the ballot. However, counters in lever machines are extremely complex, with thousands of moving parts. Exhaustive tests of these counters are difficult and therefore rare, and the vote counts obtained from these machines are only as trustworthy as the technicians who maintain them.[12]
VOTES IN COMMUNITIES OF PEOPLE OF COLOR LESS LIKELY TO BE COUNTED
The Governor s Select Task Force on Election Procedures, Standards and Technology stated in its March 2001 report that error or spoilage rates in Florida's November 2000 election varied widely by type of voting system. The report concluded:
In statewide or national elections, when different kinds of voting systems with different error rates are used, every voter does NOT have the same chance to have his or her vote counted accurately.[13]
The task force continued that [u]sing different systems with different spoilage rates for voters in the same statewide or national elections creates substantial questions about equal protection. [14]
The available statistical evidence indicates that Florida voters in poorer, predominantly people of color communities were more likely to use voting systems with higher spoilage rates meaning those voters had a lower chance of having their votes counted accurately. For example, Gadsden County, which used an optical central tabulation system, had a spoilage rate of 12.4 percent. Just on the other side of the Ochlockonee River, in Leon County, which used an optical precinct tabulation system, the spoilage rate was only 0.18 percent.[15]
Gadsden County had the highest spoilage rate in the state. In addition to being rural and poor, it is also approximately 63 percent African American the only county in the state with an African American majority.[16] On November 7, approximately one in eight Gadsden County voters was effectively disenfranchised. Leon County, on the other hand, which is approximately 28 percent African American, had the lowest spoilage rate in the state. It is the home of the prosperous state capital and two state universities. There, fewer than two votes in 1,000 were not counted.[17]
Other studies show a similar relationship between race and discounted votes.[18] The New York Times conducted a study of voting systems in Florida and concluded that the majority of the state s African American voters . . . cast their ballots on punch cards that are more prone to voter error and miscounts. [19] The Times study found that, across the state, nearly 4 percent of the type of punch card ballots most widely used in Florida were thrown out because the machines read them as blank or invalid.[20] Ion Sancho, who has served as supervisor of elections for 12 years in Florida s Leon County, testified that approximately 90,000 people were disenfranchised in the punch card jurisdictions due to failure in voter technology, failure in training the citizens to vote in those technologies, and failure to administer the process properly. [21]
By contrast, the more modern optical scan systems rejected far fewer votes only about 1.4 percent of those cast.[22] And while 64 percent of the state's African American voters live in counties that used punch cards, only 56 percent of whites do so. The Times reported:
The impact of these differences on the outcome [of the presidential race] will never be known but their potential magnitude is evident in Miami-Dade County, where predominantly black precincts saw their votes thrown out at twice the rate as Hispanic precincts and nearly four times the rate of white precincts. In all, 1 out of 11 ballots in predominantly black precincts were rejected, a total of 9,904.[23]
A study conducted by USA Today and The Miami Herald concluded, Voters in Florida's majority-African American precincts were nearly four times as likely to have their presidential election ballots invalidated than voters in precincts that are overwhelmingly made up of white voters. [24] The study also found that among the 100 precincts with the highest numbers of disqualified ballots, 83 of them are majority-African American precincts.[25]
Governor Bush s Select Task Force on Election Procedures, Standards and Technology stated that while [s]ome voter errors are caused primarily by uneducated, uninformed, or disinterested voters . . . the error rates for those reasons seem to be less than 1 percent. [26] It stated that the large differences found in error rates for different kinds of voting systems appear to be directly related to the type of equipment used. [27] The report went on to say that [t]he differences in error rates among various kinds of voting systems are much too high to be accounted for solely by uneducated, uninformed or disinterested voters. [28]
That conclusion by the governor's task force appears to be buttressed by a recent congressional study produced by the staff of Representative Henry Waxman, a ranking member of the Committee on Government Reform. The study documented how voting results were affected in the city of Detroit by a switch in voting technology combined with voter education on how to use the new machine.[29]
The report analyzed precinct-level results for Detroit for the 1996 and 2000 presidential elections. It was determined that the number of Detroit voters whose ballots were invalidated decreased nearly two-thirds from 3.1 percent to 1.1 percent after the city switched from punch card to optical scan machines that warn of errors and allow an immediate revote.[30] Moreover, the report stated that the reduction in the undercount was especially large in precincts with high rates of uncounted votes in 1996; precincts that had over 7 percent uncounted votes for president in 1996 had less than 1 percent uncounted votes in 2000.[31]
PRECINCT-BASED COUNTING SYSTEMS
There was testimony at the Commission hearings to indicate that using precinct-based counting (PBC) systems or counting mechanisms placed at each polling site dramatically decreases spoilage rates.[32] PBC systems count ballots as they are cast. If a voter improperly votes for too many candidates (i.e., if he or she overvotes), the PBC system can be programmed to reject the invalid ballot. The ballot can then be set aside and the voter can be given another chance to cast a valid ballot.[33]
Dan Gloger, an expert on voting machinery with Melbourne Technical Services in Melbourne, Florida, testified that when PBC systems were used the drop off rate[34] in those jurisdictions was 0.8 percent.[35] However, when PBCs were not used meaning when voters were not informed they had cast an invalid overvote ballot the drop off rate rose to 4.8 percent.[36] Commissioner Christopher Edley, Jr., asked, So the effect of having the overvote protection was essentially to give 4 percent of the voters back their franchise. [37] That's correct, responded Election Data Services machine expert Kimball Brace.[38]
Ion Sancho, supervisor of elections in Leon County, arrived at the same conclusion in his testimony before the Commission:
There was a failure for voting systems in Florida, but it went far beyond punch cards and chads that we saw highlighted by the media. Voters who cast their ballots in the presidential race and then had those ballots tabulated at some central or regional location lost their votes at a rate four to five times higher than voters who voted in counties that used precinct-based counting technology. Why? Because precinct-based voting systems allow the voters to correct any overvote errors they may have made.[39]
Supervisors of elections from both Monroe and Leon counties use precinct tabulation systems (the AccuVote system is used in both counties), and both supervisors of elections speak very highly of the machines.[40] Leon County Supervisor of Elections Ion Sancho, whose county had the lowest spoilage rate in Florida at 0.18 percent, is particularly enthusiastic about the system. He called it the simplest voting system in use in the United States of America [41] and said the technology it uses (precinct-based optical scan technology) is the only one that accurately reflected the will of the voters in the state of Florida. [42]
Statistical data appear to bolster these favorable opinions: On average, the spoilage rate for counties using the precinct-based optical scan technology was 0.83 percent far lower than the average spoilage rates for either central-based optical scan technology (5.68 percent) or central-based punch card technology (3.93 percent). Put another way, 22 of the 23 counties with the lowest spoilage rates used precinct-based optical scan technology (the remaining one used lever machines).[43]
---
CHART 8-1
Percentage of Spoiled Ballots by Voting Technology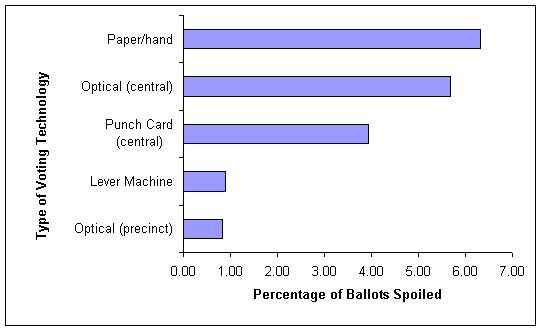 Source: Figure generated by U.S. Commission on Civil Rights staff, based on Orlando Sentinel survey as updated by the Collins Center.
---
BALLOT CONFUSION
Closely related to the equipment issue is ballot design and its effect on accurately recording votes. In Florida's November 7 general election, there were 12 candidates listed on the ballot for President compared with only three or four in previous years. Across the state, election officials wrestled with ways to get more names into the available space.[44]
Palm Beach County
Theresa LePore, supervisor of elections for Palm Beach County, decided that because tens of thousands of her voters were elderly, she would not be able to solve the space problem by using extremely small typeface.[45] Instead, Ms. LePore decided to place the names on two facing pages, with punch holes running down the center, and arrows pointing from the names to the holes. Wing-like in appearance, the ballot came to be known as the butterfly ballot.[46]
When the ballot cards were fed into the voting machines, some voters said the holes did not line up with the arrows. Moreover, there was confusion because the hole for Reform Party candidate Patrick J. Buchanan was the second hole down the center of the ballot, between the holes for George W. Bush and Al Gore this despite the fact that Bush and Gore were listed first and second on the left-hand side of the ballot. The result was that in Palm Beach County, which has 337 Reform Party members, Buchanan received 3,407 votes four times higher than the next highest county vote total he received in the state.[47] Even Buchanan acknowledged that he ordinarily would not have won so many votes in heavily Democratic Palm Beach County.[48]
Moreover, more than 19,000 Palm Beach County voters punched two separate holes when voting for President, thereby invalidating their ballots with an overvote.[49] That means approximately 63 percent of the 29,702 spoiled ballots in Palm Beach County were overvotes.[50] According to Kimball Brace, an election machine expert from Election Data Services, this extremely high percentage of overvotes is just the opposite of what we normally observe, which is 5 percent or less of the spoiled ballots.[51] Mr. Kimball testified that the high number of overvotes cast indicates confusion on the part of voters.[52] Based on this expert testimony, it appears clear that the Palm Beach County butterfly ballot, designed by Ms. LePore's office, led to the invalidation of thousands of ballots.
Before the November 2000, election, the butterfly ballot was shown to the major party county chairs and to campaign officials for every candidate. Ms. LePore stated that none of those campaign officials objected to the ballot's design.[53] However, after the election, the Commission heard testimony from several witnesses who criticized the ballot design.
Witnesses Confirm Confusion in Palm Beach
Joanna Carbone testified that she took her children to vote with her on November 7. She and her 14-year-old daughter entered the polling booth together. Ms. Carbone testified:
We placed our ballot into the little slot, lined up the red pegs, and proceeded to select our candidates. At first glance it looked like Al Gore was the second hole to be punched, so we punched the second hole. . . . Upon a second glance, a third look, a fourth, What have I done, I realized that the second hole was for Pat Buchanan.[54]
Ms. Carbone said she took her ballot to a poll worker and asked for a second ballot, telling him she made a mistake. The poll worker said, No, just take that ballot and place it into the box. [55] Ms. Carbone said she had no reason to question the poll worker because she thought he knew his job. [56] Several days later, Ms. Carbone learned that, by law, she was allowed up to three ballots in casting her vote.[57] Testifying that her civil and constitutional rights were violated, Ms. Carbone said she went from being upset to angry to outraged. [58]
Jim Dickson is vice president of the National Organization on Disability. Mr. Dickson, who is legally blind, testified that the butterfly ballot was a classic case of blaming the victim. [59] He testified that although Palm Beach County Supervisor of Elections Theresa LePore said she designed the butterfly ballot to provide assistance for voters with low vision
[LePore] not only failed to request the assistance of those who know how to develop effective large print media, but she consistently rebuffed the offers from activists in her county to provide assistance.[60]
Mr. Dickson explained that persons with low vision often experience difficulty with tracking on ballots with columns, and he said the butterfly ballot took what would have been a two column problem and made it into a five column problem. [61] He concluded the ballot was absolutely irresponsible to say the least. [62] At the Commission's Miami hearing when Ms. LePore was told of Mr. Dickson s testimony, she stated:
To my knowledge, nobody contacted my office to offer assistance. I had contacted other agencies, not with regard to the sight problem with the ballot, but as far as the language, and received no response in trying to go out and ask for assistance. . . .[63]
Rabbi Richard Yellin is a rabbi of a 2,800-member synagogue the largest retiree synagogue in Florida, maybe in the United States. [64] The rabbi testified there were so many voting problems in his synagogue-precinct that he summoned the supervisor and . . . told her that the precinct should be closed until an announcement was made to all of those voting that the butterfly ballot was problematic. [65]
Rabbi Yellin reported that many of the people at his synagogue told him they mistakenly voted for Patrick J. Buchanan. The rabbi testified, In my synagogue there's more than 100 Holocaust survivors. There's no way that anybody in my congregation would have voted or cast a vote for Buchanan. [66] He said that of the approximately 1,100 elderly Jewish voters with whom he had contact shortly after the election, 20 percent of them had the same misprinted, misaligned experience in their voting booth. [67] The rabbi testified that these individuals were experienced voters who turn out to vote over 90 percent of the time and who don't make mistakes. [68]
Testifying that the ballot's arrows did not line up with the holes, Rabbi Yellin provided the Commission with an official copy of what he called a misprinted voting booklet containing a total mistake in the instructions. [69] The rabbi concluded that [b]ecause of negligence of the Palm Beach County election authorities who permitted the use of tainted machines and brochures to confuse the electorate, the nation ridiculed Palm Beach County citizens. [70]
Duval County
Testimony indicated there was confusion with the ballot in Duval County. The list of presidential candidates was spread over two pages, and voters were only permitted to vote for one candidate. Some people, however, voted for one candidate on each of the two pages, thereby invalidating their ballot with an overvote. Moreover, this problem was exacerbated by the fact that the sample ballot in Duval County explicitly instructed people to vote all pages of the ballot, leading to thousands of spoiled ballots.[71] Kimball Brace from Election Data Services testified that of the 26,909 spoiled ballots found in Duval County, 81 percent or 21,796 were overvotes. Mr. Brace attributes these mistakes to voter confusion.[72]
CONCLUSION
During Florida's 2000 presidential election, different voting systems, with different error rates, were used throughout the state. Compelling evidence indicates that voters in poorer, predominantly people of color communities were more likely to have voting systems with higher spoilage rates. These voters, therefore, had a decreased chance of having their votes counted accurately if counted at all.
It is also clear that Florida voters who cast their ballots and then had those ballots tabulated at a central location were more likely to lose their vote because of a spoiled ballot than were voters who used precinct-based counting (PBC) technology. PBC voting systems reject invalid ballots and allow voters to immediately correct overvote errors at the polling place. In fact, in Florida, 22 of the 23 counties with the lowest spoilage rates used PBC technology.[73] There is strong evidence that whatever voting system(s) Florida uses in future elections, incorporating PBC technology will significantly increase the chances that a voter will have his or her vote counted.
Finally, the evidence demonstrates there was substantial ballot confusion during Florida s November 2000 election, which led, in some jurisdictions, to unprecedented numbers of invalidated ballots through overvoting. The majority of the complaints were registered in Palm Beach and Duval counties. In Palm Beach County, the so-called butterfly ballot caused people to mistakenly vote for the wrong candidate and to complain of a misprinted, misaligned experience in their voting booth. [74] A representative of the National Organization on Disability concluded the butterfly ballot's design was absolutely irresponsible when it came to persons with visual impairments.[75] In Duval County, the ballot spread presidential names over two pages, leading thousands of voters to invalidate their ballots by voting on both pages a problem compounded by the sample ballot explicitly instructing people to vote all pages of the ballot.
While nothing can be done to restore votes lost by Florida voters in the November 2000 election due to machine disparities and ballot design flaws, the Commission believes that illuminating and cataloguing these various difficulties can prevent their recurrence in Florida and elsewhere.
---